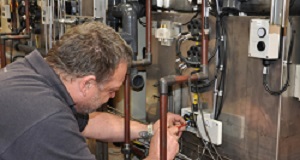 6 Axis CNC Polishing Machine
The 6 axis CNC control system is based around a Siemens 840D CNC controller and 611D AC servo drives. This specialist machine carries out the complete polishing process of commercial aircraft aluminium skin panels which was originally carried out manually.
The quality of the process is strictly controlled by positional accuracy achieved by 5 axis interpolation and consistency of the pressure applied by the buffing wheel over the stretch formed skin held by the supporting tool.
CCS were responsible for control system design and integration, manufacture and commissioning.