Energy savings for injection moulding
Over 30 years of design, technology and innovation
CCS Technology design & install energy saving systems for retrofit to injection moulding machines. Our SyncroSpeed system is the single biggest energy saver the moulding industry can embrace to achieve its goals in improving energy efficiency, reducing energy costs, reducing emissions, improving its green credentials.
energy saving dynamic motor speed control systems
part quality & productivity maintained
retrofit to most makes of injection moulding machine
reduced cooling load
35% – 55% reduction in energy costs
quieter working environment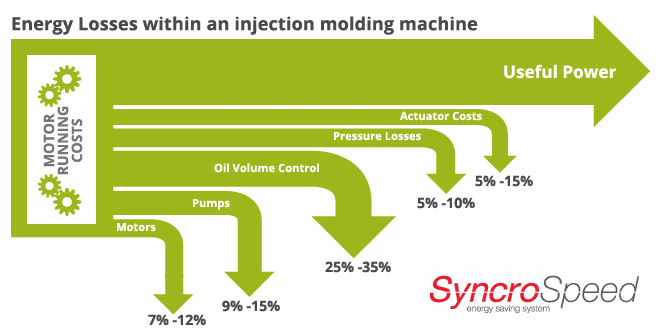 Energy saving
Less than half of the energy consumed by the electric motors provides useful power to operate the injection moulding machine. There are energy losses at every stage during the course of generating hydraulic power by the motor and pumps then transmitting power through hydraulic valves, hoses, and manifolds, and finally consuming power at the actuator. Understanding where and how the wasted energy occurs is the key to minimising losses and improving the efficiency of the moulding machine.
The SyncroSpeed system attacks the losses associated with oil volume control, pressure losses, and in some cases the operating efficiency of the pumps