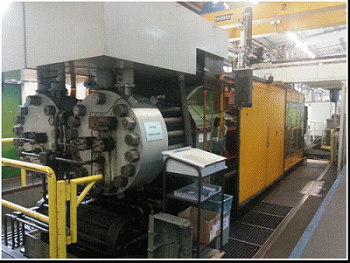 Robotic Storage And Retrieval
The system provides automated storage and buffer facilities for 500 cylinder heads for a major engine manufacturer in the UK. Following completion of the cylinder head assembly process, cylinder heads are stored within this facility until such time as they are required for loading onto the engine block during engine assembly.
Each of the 4 robots has its own independent PC based control system, interfacing to Indramat AC Servo systems via sercos. A host PC system co-ordinates the 4 robots via a wireless Ethernet network, maintaining a real-time database containing assembly data for stores locations, together with supervisory control and full process visualisation.
CCS were responsible for control system design manufacture, installation, software and on-site commissioning.
System Details

Controller:
Graphics:
Drive systems:
Networks:


TwinCat PTP soft PLC system
Allen Bradley RSView32, Visual Basic
Bosch Rexroth Indramat
Wireless Ethernet, Allen Bradley RIO