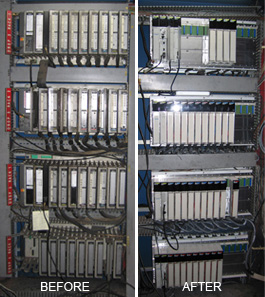 Modicon 984 Upgrade
This ageing machine used in the tyre industry had serious reliability problems due to the obsolete Modicon 984 PLC system.
CCS technology were contracted by Dunlop to replace this old equipment with a state of the art Schneider Quantum PLC system, however due to 24/7 production at the plant and this machine being fundamental in the production process we were given very limited access to the machine for the upgrade.
The PLC system was replaced on a rack by rack basis, with the machine re-entering production between each replacement to prove the functionality of the new equipment whilst maintaining production throughput.
The first step was to convert the 984 PLC program to ProWorx32 and install in a new Schneider Quantum PLC system. The CPU was connected to the 984 I/O using a remote I/O scanner. The machine was then fully validated to prove the software conversion was successful.
The next step was to replace the I/O systems. Each of the I/O racks took around 1 hour to replace by use of special racks and quick fit cables. These cables plug into the old 984 I/O wire harnesses and plug directly into the new Quantum PLC modules, reducing installation time and eliminating possible wiring errors during the upgrade process.
All 11 racks were replaced over a two week installation and re-commissioning period. There was NO loss of production during the system upgrade process.
A New Citect SCADA system was added to the machine to perform plant monitoring, alarming and recipe storage functions for the machine.