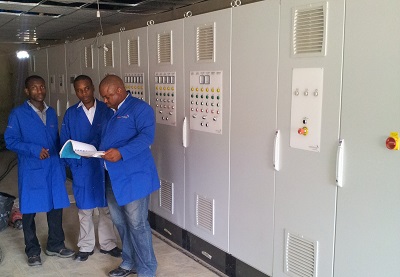 Regional Waterworks Commissioning Is Underway
Commissioning is underway at the Otta Ikosi regional water scheme in Nigeria. Electrical Engineers from our regional office in Lagos are onsite carrying out the control system commisioning activities, supported from the head office in the UK. CCS Technology were responsible for the design and manufacture of the complete electrical control system including PLC and SCADA systems together with Motor Control Centres, Remote telemetry systems, Solar power generation and remote RTU units for unpowered remote locations.
The regional water scheme pumps water from a local river, carries out sedimentation, filtration and purification at the main head works then pumps to 14 remote pump booster stations and water tanks at remote locations. When fully commissioned, the regional waterworks scheme will deliver 4 Million Gallons of clean drinking water to a large section of the population of Lagos state for the first ever time.