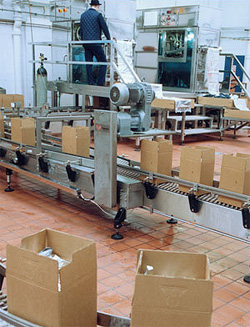 Packaging Machinery
We have developed control systems for various bag and packing manufacturing companies, based around PLC, CNC and motion control systems.
We manufactured the control system for an 11 axis CNC controlled bag "assembly" machine. The bag used film from five unwind stands which was automatically brought together to form the shape of the bag and the seams welded with both solid bar and Nicrome welding systems. Print registration and axis synchronisation techniques are used during the process.
Other systems include PLC based control systems using servo drives for material transfer and operation of cutting, perforating and winding stands.