​​CNC Control Solutions
​CNC Based control systems are typically used on machine tools and they provide a convenient standardised programming platform to allow machine operators to produce part programs to produce machined parts. The machine part programs are produced using a ISO standard G-Code programming format which allows different CNC controllers to use the same programming language.
We use CNC based controllers for machine tool applications where the ability for the end user to produce their own machine sequence and cycles is required. Additionally we design and manufacture our control systems based around CNC systems for Robotic and cartesian machine systems where very high performance axis synchronisation or interpolation is required between the machine axes.
CNC Retrofits are a major part of our business where we upgrade or replace old and obsolete CNC machine controllers on machines which are still in a good mechanical order but the reliability of the control system and availability of spare parts presents a problem for the end user. Call or email us to discuss your obsolescence and machine reliability issues and we would be happy to provide a free, no obligation quotation to carry out a machine upgrade for you.
CNC Systems ExperienceRecent CNC Systems used
Siemens 840D with integrated safety
Siemens 805 and 810 Controllers
Fanuc powermate
Bosch Rexroth MTC and MTX CNC Systems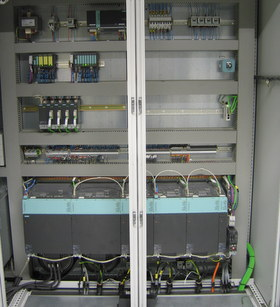 Case Studies Find case studies for your industry here
CNC RetrofitOur CNC system Upgrade service
Obsolete CNC systems are a problem for CNC machine users in terms of reliability and maintainability. Spare parts become impossible to source and finding engineers to provide assistance on these legacy systems a major problem. CCS Technology offer a CNC system retrofit service, where we can strip out the obsolete CNC system together with spindle and axis drives and replace with a new, state of the art CNC system proving a dependable and reliable machine tool.