​​​PC Based Control System
​PC Based control systems are becoming common on machines where large amounts of results/setup data is to be stored locally in databases or where integration into company networks infrastructure is required.
Soft PLC systems running within the PC environment are used on many industrial application using TwinCAT or Siemens CPU1507 soft PLC controller, these provide an alternative to conventional hardware PLC platforms. These PC based soft PLC systems would use ethernet communications to a host of I/O modules that will provide the interface to the machine systems.
Additionally, we use National Instruments LabVIEW for providing machine control systems where databases are to be hosted, connection to SAP systems or in test equipment where fast analogue signals are to be processed. Contact us on 024 765 45711 or sales@ccstech.co.uk for more information or to help with your control requirements.
Brands we work withRecent PC Based Control Platforms
We develop PC based control solutions using:
Labview
TwinCat
Microsoft .Net

Case Studies Completed project case studies
MES/SAP ConnectivityShop floor to Top floor Intelligence
CCS Technology specialise in providing that vital link between the shop floor PLC and CNC system to the factory Manufacturing Execution Systems (MES).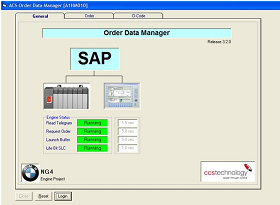 Our systems include product launch control, overall equipment effectiveness (OEE) and performance trending, process data archiving, process variable trending, material tracking and traceability functionality.